he stood outside the nursery window holding his mothers hand...his auntie and uncle were there too...and seemed very excited and animated....his uncle kept saying "astonishing...astonishing"....as he waved his arms around....he saw a mother holding it...it was different...it had a costume on...maybe for Halloween.....he wasn't sure...he wanted to go inside and look closer....see what it really was
what was it ???
it seemed unhappy to him
he knew about unhappy
sometimes the people he was around were unhappy
but not his mother...she never was
he tugged on his mother's hand trying to free himself from her...just small tugs...the kind she'd become used to...as she loosen her grip..he slipped it out and moved quietly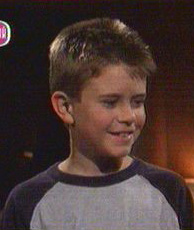 to the nursery door opened it and walked in....
the creature was immediately reactive to him and nearly flew out of the carriers arms into the boys arms.....and he began laughing...and the creature began burbling...flapping it's wings and darting them in and out over the boys head.....he sat down on the floor with her and began to babble to her in a strange somewhat stilted way...she babbled back...
Sarafem smiled and laughed and simply spun in the air with happiness and excitement...to everyone amazement literally lifting herself off the ground as if to take flight
Markem was terrified
Natalynn was frightened too but did nothing to stop the meeting...it was some kind reunion.....a reunion with a stranger....but she instintively knew this child was not a REAL stranger to Serafem.....
she looked out the nursery window in time to see the boy's mother being forcibly held back from coming in to reclaim her child...
security had arrived and the hall was filled with uniformed personel... the confusion reigning now in the hall was tremendous...
Markem was at the door motioning... no... no... stay back dont try to come in here !!!.
natalynnn had risen and walked over and sat down next to her child and the boy...she smiled and stroked the boys head.. ..then gently lift Serafem
out of his arms......the boy freely allowed it....then he put his head against Natalynn's shoulder and Serafem for the first time snuggled and moved her body to get very close to Natalynns
the boy loved this baby..they could talk..and when she was happy colors flowed out from all over her body..........wonderful colors.........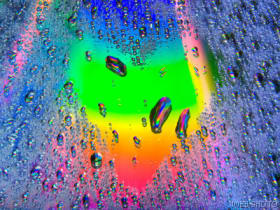 the kind he liked to paint with....
she looked and saw no wings on the boy creatures back
but that didn't matter because she knew
from what they said to eachother
the OLD CREATOR
had sent her
one of her kind