his confusion flew from him like leaves blowing in the wind as he got closer and closer to the canyon pool......his brain had been on fire with this situation he had gotten himself into and the murderous desert heat......but now the temperature began to cool as he got near the water and he began to feel some relief
he fell into the water refreshed at long last.... by the cool....languid....dark....enveloping liquid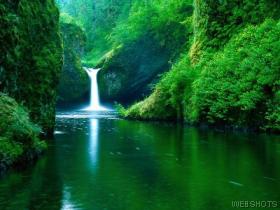 the water was mossy...it had the sweetness of greenery that didn't exist in the arid desert above.... the trees and shrubs clung to the waterline succoring the life giving substance ......
he floated lightly on the surface....and slowly relinquished the tension from his body...
out of the corner of his eye he saw something moving at the water's edge....it was a woman .....she was dark skinned...slender and alluring....her body was beautiful...... rivulets of water flowed down from her dark wet hair and slid... glistening down her naked back.... the sun glinting on them gave the appearance that she was covered with bright sparkling diamonds.....
his breath caught in his throat...and he swam down under the surface of the water to regain his composure.....he felt his body begin to tremble.....
was the refreshing water suddenly so cold ???
slowly he came to the surface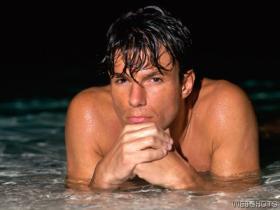 and gazed steadily at her body's magnificence........ 'til he became too embarrassed by his own growing hunger and he turned his eyes away .....to respect her privacy.....
"come.....come...come here"...he heard her voice drifting over the water....and as he glanced over his shoulder he saw that she was beckoning him to come back to the shoreline and come out of the water.....
he swam toward her voice as if hypnotised
she hadn't covered herself and came quickly into the water smiling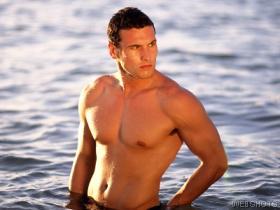 ...when she reached over and grasped his arms to help him out of the water her fresh sun tainted smell assailed his senses and his nostrils flared involuntarily seeking even more of it's heady flavor....
she was laughing at him ...that crystalline laugh that burbled out of her like a bubbling brook over small round stones ....
she stood proud and uninhibited in a hedonistic way that was both brazen and childlike....he had nothing to cover himself ....and felt some shyness at this turn of events....he clumsily rose out of the water and strolled out onto the shore..... pushing his wet hair out of his eyes and steadyed himself
She Takes Wing was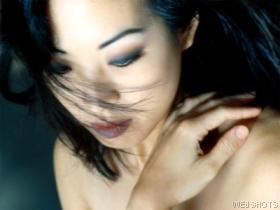 remarkably beautiful...before he could open his mouth to say a word...she said "you are so beautiful"....and the strangeness of the remark made them both laugh
they sat cross legged on the wet ground and talked about what had brought them both here to this desert place...he marveled at the story....aware of gene cleaning but having no idea of the extent to which it had been developed.....the complications with Natalynn's child...if they were indeed complications.... were more amazing to him then anything he'd ever heard....
something had happened when he touched Natalynn's abdomen at Neah Bay....something so powerful that without a thought he had jumped on a helicopter and landed here.....
"how am i a part of this" ??? he asked her
"if i knew i would tell you" she said
then she leaned forward
and kissed him gently on the cheek
"thank you for your patience about this"
she whispered in his ear
the warmth of her breath there and her sweet quiet voice created a flood of passion that had a will of it's own...he reached out tenatively and gently and push a tendril of her hair back from her forehead ....he looked deeply into her exotic eyes ...he leaned in and brushed her fluttering eyelids with his moist mouth ....then slowly he kissed her full trembling lips..... moving on to search for the pulse he now knew must be throbbing madly in her slender neck....
the look and feel of her body hurried his probing fingers onward to explored her breasts and abdomen....he began to feel that excruciatingly sensuality.....powerful...in a way he hadn't felt it for years....
his insides were melting and exploding....wave after wave of electricity shot thru him..he found himself lifting her...pulling her succulent body ever closer...
somewhere someone was moaning.....
her exquisite body was as light as feather.... and he held her even more tightly..... so she wouldn't blow away.....gone hastetily up into the wind......... before he even had the chance to fully envelope her body and plumb the depth of her mind and soul.....
her lips kissed his neck frantically and her teeth bit deeply into his shoulder nearly drawing blood .....
it was then that she felt his knees buckle......and they slid into the shallow water at the pools edge
the water rushed in qiuckly and surrounded them....swirling and mingling with their passion.....
nothing could silence the need he felt now......
the high wide cliffs that surrounded the pool took on a cathedral appearance and his need to worship her was devastating...
a prayer had not been uttered ......but none the less was answered
in an unlikely desert setting...
in an even more unlikely canyon pool....
by a woman busy with books and fearful family catastrophe....
a woman who didn't even know his name...

to continue read next post