~*~she wasn't going my way~*~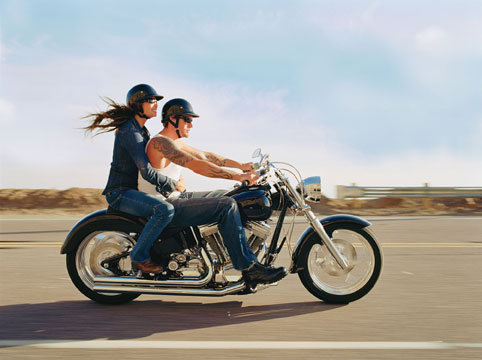 in fact she was heading down 101 in the opposite direction on the back of a bike...and definately looking...."born to be wild" ..no backpack there now....where were the books??? .....
he caught just a glimpse of a radiant smile as the tatooed man and she flew by him on the other side of the road......
he was non reactive just moving in the slipstream.......at first...but a niggling feeling began to squirrel around in his feeling of insulation..... and he turned off and began to drive due south again .......
it wasn't long before he was crossing over the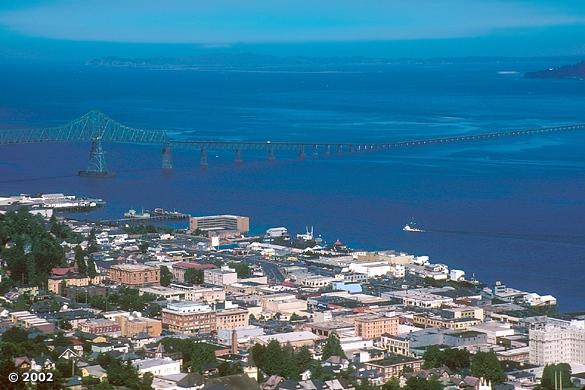 Astoria-Megler bridge into Oregon....he became aware that he was scanning the bridge for the bike and it's riders....and didn't see them........was that disappointment he felt...???
it couldn't be....this was just a game of cat and mouse.....
it had no relevance....just some daily stimulation...mental masturbation.....he clicked out of the feeling quickly as if it was a light switch easily turned on and off......
and back came the magical feeling of the wind blowing thru his hair with the top down....the salty seaair smell assailed him....rich with it's aroma of fish and crabs and lobsters......
the bike was parked in front of a crab restaurant....the couple were sitting outside chatting and eating freshly boiled crab...unhauled quickly ftrom the boats nearby
he was suddenly hungry...and swung the Stang in right beside the bike....
"nice Stang" the biker said "65 isn't it" ???
....he nodded affirmatively....."you've done a lot of restoration on it"... and he stood and walked over to the car.....the woman came over too
"didn't find that river yet eh" he said to her.....and a look of recognition finally crossed her face...."not yet" she said "but there's plenty of time"
"you're still feeding your wanderlust i see".....she threw back
"yup" he said.....
"are you from Canada man" the biker asked as he looked at the license plates on the back of the car.....
"dude you're a long way from home".....
"the car is my home" he said.....
the two started to put their helmets on and the biker called back as he was swinging out onto the highway "road's my home too"...at least for today....might be scoutin' out some river property tho" and a huge grin cross his face....she responded to him in kind and threw her head back and laughed......
it was a musical sound......and her eyes danced....
they were grey.... yes he thought to himself... now he could see her eyes were grey.........


to continue read next post